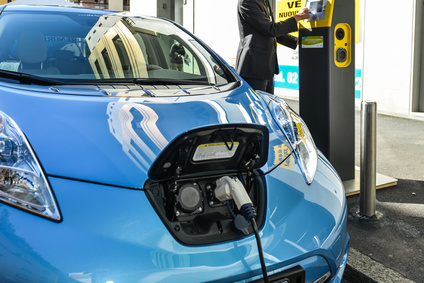 As a motor enthusiast of any kind, the phrase "electric car" probably makes your heart sink into your stomach. That is alright. It is a perfectly normal feeling. However, what if I told you that you could have the speed and power of a gas engine–not to mention a brand name–with the environmentally friendly and money-saving style of an electric car. Well you just can't. Not yet, anyway. Not until 2014 brings with it 6 new electric cars that will change the face of the automobile world forever.
Now you'll ask, "What makes 2014 any different than past years?" There have been plenty of electric cars released in past years, some of which are more affordable than most of the 2014 models. So what could possibly make this release any different? There are three distinctions. One, this years models welcome three new makes to the electric car race: Cadillac, Mitsubishi, and BMW. Each of these makes has something original and interesting to bring to the table. Two, the price of gas has nearly tripled in the last ten years and has only just recently hit a plateau. At an average of $3.60 in the United States as of May 27th, gas is simply becoming more money than it is worth. Three, subsidies for electric car companies are rising in California and other states so companies will have reason to sell more and more cars for cheaper prices. For instance, Tesla is being subsidized at about 40% of each car they make in the state of California.
All in all, the proof is in the pudding with these cars. There is no way to tell if you will like an electric car unless you actually try one out for a brief or extended period of time. At most companies, test drives are complimentary when certain prerequisites are met and there is little that can't be seen about the car in a test drive. Here are a list of the new cars that you should test out before knocking the idea of an electric car:
– The Tesla S. Tesla is one of the first and foremost companies on the production line of electric cars. These little sports cars have proven that speed and agility can be achieved at the cost of a loud engine. The Tesla S model is the newest and highest priced of the make starting at $69,000 and ranging up to just under $200,000. If you have the money, these cars are nothing to be trifled with.
– The 2014 Cadillac ELR. If you love the body of a sturdy and powerful Cadillac, this car will fit you just right. If the body and size of this car don't outmatch its gas-guzzling companions, the beauty of it will. One glance at the new Cadillac and you will be shocked to hear it is electric. No price tag has been confirmed, but these will likely sell for around the same as a similar sized gas Cadillac.
– The 2014 Chevrolet Spark. With the success of the Chevy Volt, the company has created a new concept to compete with cars like the Toyota Prius and the Smart car. This is one of the first of its size that is American made and fully capable to outmatch the competitors.
Despite your initial view, the idea of an electric car isn't too hard to grasp, especially when it looks like these do.