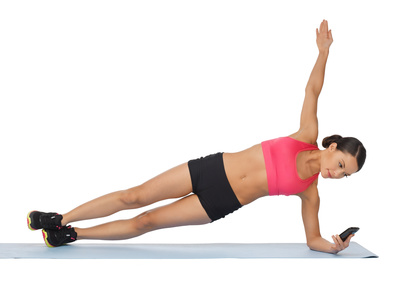 In the last three decades, fitness and technology have become a staple of urban society in America and across the world. There are many positives for both the consumer and the manufacturer of fitness technology. That is just one of the many reasons why the market grows daily and why there seems to be so much potential within the market.
As we climb higher into the digital age, the world of applications, or apps as they are more commonly referred to, has embraced the fitness technology craze as well. Each and every day, the iPhone, Droid, and Windows markets add more and more apps concerning fitness. So many, in fact, it can be hard to tell which ones work and which ones are duds.
Here is a list of the most useful fitness apps that you can find on these markets and why they are the best:
5) Nike+ GPS. While it is not very new anymore, Nike+ can be considered a classic. With the recent updates that allow your phone to pick up your GPS location in order to trace your run on a map, it is very motivating. Also, if you like to brag to your friends about your recent run, Nike+ automatically synchronizes with Facebook and Twitter so your friends can cheer you on.
4) Lose It. One of the only free nutrition apps that gives you barely any hassle. This app allows you to log your diet, workouts, and daily routine so you can plan each week as the last or change it up every once in a while. When you embrace this app as apart of your workouts, it becomes a very useful tool for getting fit.
3) Couch to 5K. The name says it all. If you have never had the resilience to run at a 5K pace this app can give you just that. It will give you a nine week program in which you can increase your distance every week until you reach your goal. If you are a runner, this is the app for you.
2) iFitness. If you are looking for something decently cheap and still very beneficial, iFitness has it all. This app is loaded with over 250 different exercises with plenty of helpful graphics and videos to help you reach your fitness goal. Weight lifters can learn plenty of new and upcoming lifting methods and also great ways to stretch for just under $2.00.
1) JE Fit. Although it requires an internet connection, JE Fit is probably the best all around app for someone on a fitness kick. It allows you to download programs from users all over the site and allows you to create your own routines. Besides all that, all of your stats such as your reps, weights, sets, and times can be recorded right on the app and uploaded for later use.
Each and every one of these apps will allow you a first step into the world of tech fitness. Whether you are a runner, lifter, or even just trying to lose some weight, all of these apps have a little something for everyone. Though these apps are definitely a step in the right direction, but we can't leave it there.  There's no arguing it – you'll also need to focus on proper nutrition to maintain a healthy lifestyle. You may wish to consider the slow carb diet, (information for which can be found at eslowcarbdiet.com ) – a diet plan which has been trending recently, with astonishing results for many who have tried it. This diet also came out of Silicon Valley (fittingly enough) and is considered by many to be the best diet they've ever been on. You'll have to try it for yourself to see.